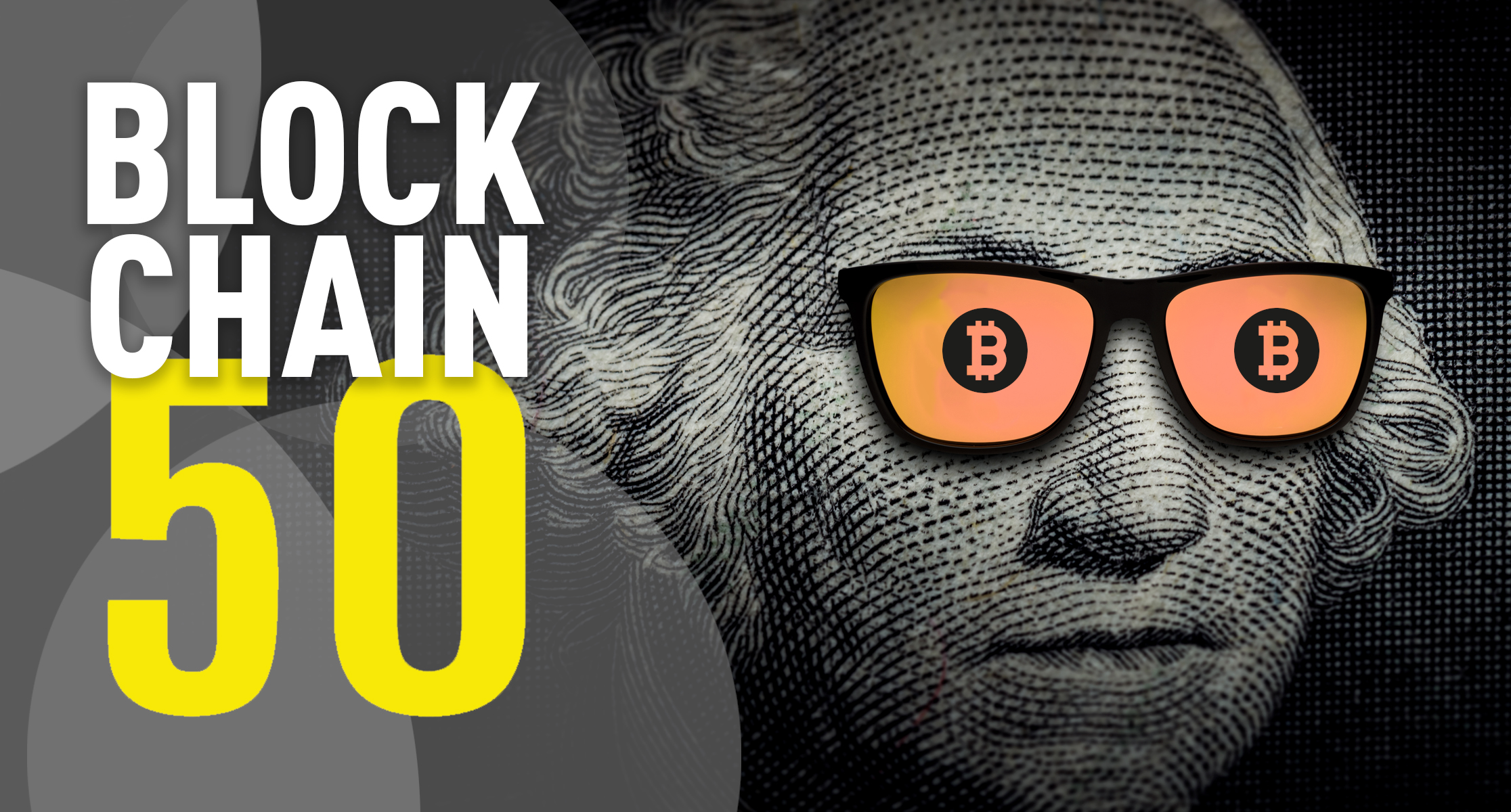 Questo articolo di Michael del Castillo è apparso su Forbes.com.
Non più liquidati come un rifugio per criminali e spacciatori, il Bitcoin e la blockchain sono diventati mainstream. L'ascesa del Bitcoin nel 2020 ha attirato l'attenzione di grandi manager di tutto il mondo. Non solo le società stanno utilizzando la tecnologia sottostante il Bitcoin per svolgere compiti come la riconciliazione delle fatture e la verifica della provenienza dei prodotti, ma dozzine di loro possiedono ora Bitcoin come attività di tesoreria.
La nostra terza edizione della Blockchain 50 comprende aziende che sono pioniere nell'utilizzo di tecnologia distributed ledger e hanno ricavi – o valutazione – di almeno un miliardo di dollari. Debuttano sulla lista 21 nomi nuovi – tra cui la più grande banca del mondo, la Industrial and Commercial Bank of China, più altre quattro società asiatiche -. Prendono il posto di aziende statunitensi come Facebook, Google, Amazon e Ripple, che sono ancora attive nelle blockchain, ma hanno mantenuto profili più bassi nel settore negli ultimi 12 mesi.
Ecco l'intera lista delle Blockchain 50:
A.P. Moller-Maersk (Copenhagen, Danimarca)
Piattaforme: TradeLens, Hyperledger Fabric, Ibm Blockchain
Leader chiave: Michael White, amministratore delegato di Gtd Solution, una sussidiaria interamente di proprietà di Maersk, dedicata allo sviluppo della piattaforma TradeLens
Ant Group (Hangzhou, Cina)
Piattaforme: AntChain, Hyperledger Fabric, Quorum
Leader chiave: Geoff Jiang, vicepresidente di Ant Group, presidente del gruppo intelligent technology
Baidu (Pechino, Cina)
Piattaforme: Baidu Xuperchain, Hyperledger Fabric
Leader chiave: Wei Xiao, general manager del dipartimento sistemi blockchain
Bhp (Melbourne, Australia)
Piattaforme: MineHub, Hyperledger Fabric
Leader chiave: Michiel Hovers, direttore vendite e marketing del gruppo, e Sundeep Singh, procurement officer
Binance (Isole Cayman)
Piattaforme: Bitcoin, Binance Chain e dozzine di altre
Leader chiave: CZ (Changpeng Zhao), amministratore delegato, e Yi He, co-fondatore e chief marketing officer
Boeing (Chicago, Illinois)
Piattaforme: Go Direct, Hyperledger Fabric
Leader chiave: Amir Husain, amministratore delegato di SkyGrid
Cargill (Wayzata, Minnesota)
Piattaforme: Quorum, Hyperledger Grid, Ethereum
Leader chiave: Petya Sechanova, amministratore delegato di Covantis
Carrefour (Massy, France)
Piattaforme: Ibm Blockchain, Hyperledger Fabric
Leader chiave: Emmanuel Delerm, global head delle piattaforme blockchain, marchandising e supply chain b2b
China Construction Bank (Pechino, Cina)
Piattaforme: Bc Trade 2.0, Hyperledger Fabric, Hyperchain
Leader chiave: Tan Hao, vicepresidente per la financial technology
Cme Group (Chicago, Illinois)
Piattaforme: Bitcoin, Ethereum
Leader chiave: Tim McCourt, global head and managing director, equity and alternative investment products
Coinbase (San Francisco, California)
Piattaforme: Bitcoin, Ethereum e dozzine di altre
Leader chiave: Brian Armstrong, amministratore delegato e co-fondatore
Cona Services (Atlanta, Georgia)
Piattaforme: Baseline, Ethereum, Hyperledger Fabric
Leader chiave: Andrei Semenov, director of innovation
Credit Suisse (Zurigo, Svizzera)
Piattaforme: Enterprise Ethereum, Paxos Settlement Service
Leader chiave: Emmanuel Aidoo, direttore dei digital asset markets
Daimler (Stoccarda, Germania)
Piattaforme: Hyperledger Indy, Hyperledger Fabric, Corda, Ocean Protocol, Ethereum, MoveX
Leader chiave: Jonas von Malottki, amministratore delegato di Daimler Protics GmbH 
Depository Trust & Clearing Corporation – Dtcc (New York, New York)
Piattaforme: Axcore, Hyperledger Fabric, Corda, Daml, Ethereum
Leader chiave: Rob Palatnick, direttore globale della ricerca tecnologica e dell'innovazione e presidente del consiglio di amministrazione di Hyperledger, e Jennifer Peve, direttore globale della business innovation
Digital Currency Group (New York, New York)
Piattaforme: Bitcoin, Ethereum, Xrp, Zcash e altre
Leader chiave: Barry Silbert, amministratore delegato e fondatore
Equinor (Stavanger, Norway)
Piattaforme: Data Gumbo, Vakt
Leader chiave: Anders Opedal, amministratore delegato
Fidelity (Boston, Massachusetts)
Piattaforma: Bitcoin
Leader chiave: Tom Jessop, presidente di Fidelity digital assets
Honeywell (Charlotte, North Carolina)
Piattaforme: Hyperledger Fabric, GoDirect Trade
Leader chiave: Lisa Butters, general manager di GoDirect Trade
Hsbc (Londra, Inghilterra)
Piattaforme: Quorum, Corda, Ethereum, Hyperledger Fabric, OneConnect
Leader chiave: Vinay Mendonca, global head of product and proposition management, global trade and receivables finance, e Mark Williams, global head di Fx Everywhere
Ibm Corporation (Armonk, New York)
Piattaforme: Ibm Blockchain, Hyperledger Fabric
Leader chiave: Alistair Rennie, general manager di Ibm Blockchain
Icbc (Pechino, Cina)
Piattaforme: Icbc Chain, Ethereum, Hyperledger Fabric, Tendermint
Leader chiave: Guangqing Gong, direttore del team di ricerca e sviluppo in innovation technology
Ing Group (Amsterdam, Paesi Bassi)
Piattaforme: Corda, Quorum, Ethereum, Hyperledger Fabric, Hyperledger Indy
Leader chiave: Mariana Gomez de la Villa, program director distributed ledger technology
JPMorgan Chase
Piattaforme: Quorum, Ethereum
Leader chiave: Umar Farooq, amministratore delegato di Onyx
Kakao (Jeju-si, Corea del Sud)
Piattaforma: Klaytn
Leader chiave: Jason Han, amministratore delegato di Ground X
Lvmh (Parigi, Francia)
Piattaforme: Aura, Quorum, Ethereum
Leader chiave: Franck Le Moal, chief information officer
Microsoft (Redmond, Washington)
Piattaforme: Quorum, Ethereum
Leader chiave: Jagannathan Venkatesan, principal group software engineering manager
Microstrategy (Tysons Corner, Virginia)
Piattaforma: Bitcoin
Leader chiave: Michael Saylor, amministratore delegato
National Basketball Association (New York, New York)
Piattaforma blockchain: Flow
Leader chiave: Adrienne O'Keeffe, associate vice president per le partnership globali
Nornickel (Mosca, Russia)
Piattaforma blockchain: Hyperledger Fabric
Leader chiave: Jeanine Hightower-Sellito, amministratore delegato di Atomyze
Northern Trust (Chicago, Illinois)
Piattaforme: Bitcoin, Ethereum, Hyperledger Fabric, Hyperledger Sawtooth, Daml
Leader chiave: Pete Cherecwich, presidente dei servizi corporate e istituzionali
Novartis (Basilea, Svizzera)
Piattaforme: Ethereum, Sovrin, Hyperledger Fabric, Corda, Daml, Quorum
Leader chiave: Liz Theophille, chief technology transformation officer
Oracle (Austin, Texas)
Piattaforme: Oracle Blockchain Platform, Hyperledger Fabric
Leader chiave: Frank Xiong, vicepresidente del gruppo per lo sviluppo dei prodotti blockchain
PayPal (San Jose, California)
Piattaforme: Bitcoin, Ethereum, Bitcoin Cash, Litecoin
Leader chiave: Dan Schulman, amministratore delegato
Ping An (Shenzhen, Cina)
Piattaforma: FiMAX
Leader chiave: Frank Lu, general manager, Dlt research & solutions
Samsung Group (Seul, Corea del Sud)
Piattaforma: Nexledger
Leader chiave: Jeanie Hong, head of blockchain center
Sappi (Johannesburg, Sudafrica)
Piattaforme: GreenTrack, Hyperledger Fabric
Leader chiave: Krelyne Andrew, general manager sustainability, dissolving wood pulp
Saudi Aramco (Dhahran, Arabia Saudita)
Piattaforme: Ethereum, Hyperledger
Leader chiave: Yousef A. Ulyan, vicepresidente IT
Signature Bank (New York, New York)
Piattaforme: Signet, Ethereum
Leader chiave: Frank Santora, chief payments officer
Square (San Francisco, California)
Piattaforma: Bitcoin
Leader chiave: Steve Lee, project manager di Square Crypto 
State Farm (Bloomington Illinois)
Piattaforme: Quorum, Ethereum
Leader chiave: Mike Fields, innovation executive di Red Labs, e Robert Yi, senior vice president di P&C Claims
Stone Ridge (New York, New York)
Piattaforme: Bitcoin, Ethereum, Xrp, Litecoin, Bitcoin Cash
Leader chiave: Robert Gutmann, co-fondatore di Stone Ridge e amministratore delegato di Nydig
Swisscom (Berna, Svizzera)
Piattaforme: Hyperledger Fabric, Hyperledger Ares, Hyperledger Indy, Corda
Leader chiave: Roger Wüthrich-Hasenböhler, chief digital officer
Tech Mahindra (Pune, India)
Piattaforme: Hyperledger Fabric
Leader chiave: Rajesh Dhuddu, practice leader of blockchain and cybersecurity
Telefonica (Madrid, Spagna)
Piattaforme: TrustOS, Hyperledger Fabric
Leader chiave: José Luis Núñez, global head for blockchain
Tencent (Shenzhen, Cina)
Piattaforme: Fisco Bcos
Leader chiave: Howe Zheng, vicepresidente di Tencent Financial Technology
Vanguard (Valley Forge, Pennsylvania)
Piattaforma: Symbiont Assembly
Leader chiave: Warren Pennington, principal del gruppo investment management di Vanguard
Visa (Foster City, California)
Piattaforme: Bitcoin, Ethereum
Leader chiave: Cuy Sheffield, head of crypto
VMware (Palo Alto, California)
Piattaforma: VMware Blockchain
Leader chiave: Brendon Howe, vicepresident e general manager della blockchain
Walmart (Bentonville, Arkansas)
Piattaforma: Hyperledger Fabric
Leader chiave: Tejas Bhatt, senior director per la global food safety innovation, e Archana Sristy, senior director per le piattaforme blockchain di Walmart Global Tech
Per altri contenuti iscriviti alla newsletter di Forbes.it Iscriviti